Congratulations to Lydia Kovalenko, developer of our December GameSalad Game of the Month, Panmorphia!
Panmorphia is a point and click adventure game with many puzzles to solve!
GameSalad: Tell us a little about yourself and your experience as a game developer. Are you a solo creator, or part of a team or company?
Lydia: Hello everyone! It's such an honour being chosen for Game of the Month. My name is Lydia Kovalenko (LKMAD) and I am the solo developer behind Panmorphia. My formal background is in Architecture, though I have dabbled a bit in the gaming industry before.
GameSalad: Architecture sounds like an interesting background for game creation. What got you interested in GameSalad?
Lydia: Having no prior programming knowledge, I thought that creating games on my own was not possible and that the only way I could ever release one would be by hiring someone else to code it for me. A friend of mine suggested a few games for the iPad in February of 2013 and after some out of curiosity research on how they made them, I found that there were tools out there for people such as myself.
The way that I have always created was by allowing my work to evolve during the creative process. Something like this however would have been very costly going down the hired help route. I am glad that I have been able to do this on my own using GS and thus not sacrifice the end result.
Creating the game once and then being able to release it on multiple platforms was something that also played a big role when deciding which game engine to use.
GameSalad: That would have been very costly indeed! What inspired you to make a game like Panmorphia?
Lydia: I have wanted to create a game for a while now. Adventure games is my favourite genre and something I have a bit of experience in, so it felt natural to try making one. Living in Cyprus you are surrounded by so many beautiful places and from a young age I have always liked to come up with stories revolving ancient ruins and lost civilizations. It felt natural for me to use my surroundings to create the game. It also gave me the opportunity to discover new places and appreciate my island from a different point of view.
Lydia: Architecture is essentially all about getting a clear idea of who the users of a building or space will be and letting that story inform the design. I think this way of thinking lends itself perfectly when creating a game of this type as by having a clear idea of the game's backstory, you are then able to create a rich environment for your characters to exist in. In all honesty, it was the perfect excuse to create my own world and live in it for a while.
GameSalad: You mention that your background in architecture benefitted you in creating the story for Panmorphia, do you think it benefitted you some in the creation of the art of Panmorphia as well?
Lydia: Absolutely. The context is really important when designing in Architecture so it's pretty normal and expected to create photomerges of the proposed site with your building in it. This gives an idea to the client of how it will look after it is built. In that sense I already had the fundamental knowledge of how to manipulate photos to create the backgrounds, I just needed a little help with the ambience. There are many online tutorials that are pretty good of teaching you the basics on how to do that. I picked up a few tricks doing some and after that it was a matter of experimenting until it felt right and all the scenes had a coherent style.
GameSalad: Speaking of art, the art in Panmorphia is quite beautiful and realistic, do you mind sharing a little info on how you created it?
Lydia: Thank you! I used a technique called digital matte painting. You basically take a lot of photos and combine them together to create the scene that you envision. There is a lot of retouching involved to make sure everything blends together nicely and applying filters so that it has the right atmosphere.
Lydia: For the animal statues for example, I took photographs of natural rock formations that kind of resembled the shape of what I wanted to do and then I just 'chipped' away until it looked right. I also drew a few things by hand, imported them in AutoCAD to draw over and then finished them off in Photoshop. The night sky was done from scratch, I found a star chart that I liked and used it as a guide to draw over each star, then played with gradients and filters – that one took a while!
GameSalad: Thanks for that insight! How long have you been using GameSalad?
Lydia: I have been using GS since September of 2013. Initially I was going to use another engine, but I found it really hard to understand how everything worked and how to get started. I then found GS and just by spending a weekend looking through the cookbook and other video tutorials, I felt confident enough that I would be able to create it. To think that roughly 1.5 years later I not only have published my game, but I have also won Game of the Month is something beyond my wildest dreams. I am really grateful for that.
GameSalad: Well we're glad you chose GameSalad! How long have you been making games?
Lydia: This is my first published game. I used to work in an online graphical chat called WorldsAway (created by Fujitsu and LucasArts) while studying Architecture. I initially started as an artist and later rose through the ranks to manage one of their virtual worlds. Part of my responsibilities was overseeing 'in-world events' and we used to have mini point and click adventures (quests) each weekend. Aside from our official large scale quests, I would work with the members in preparing their quests for release and I would sometimes fill the remaining empty slots with additional mini quests of my own. My favourite part was always seeing people enjoy them, as well as the camaraderie of people joining ranks to solve the adventure together. We always felt bad when we had to dismantle them at the end of the weekend, so I'm really glad that I am now able to create more permanent incarnations of them.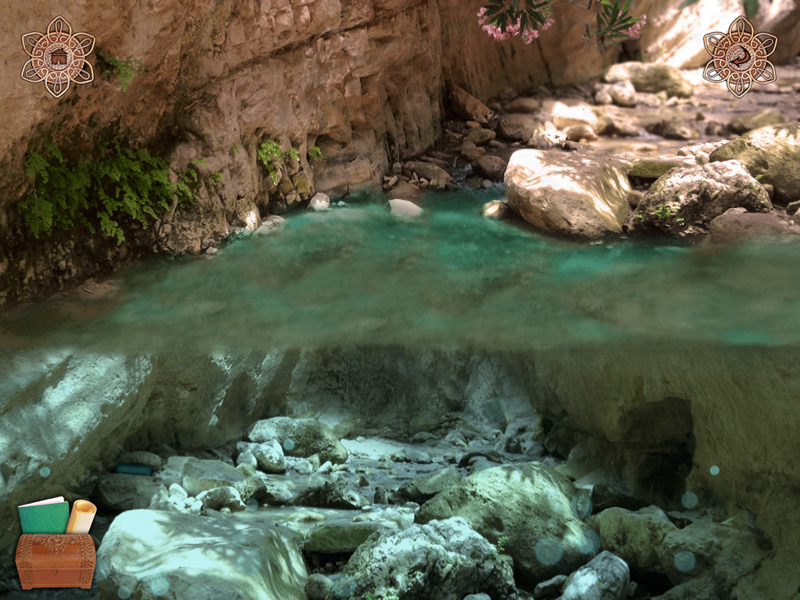 GameSalad: Sounds like your pretty experienced at creating puzzles. Have you been pleased with your final product and has Panmorphia met or exceeded your expectations?
Lydia: I am extremely proud of what I have accomplished. I don't think it has fully sunk in yet that I have a game out there, but receiving emails from people that loved playing it has been so rewarding that I cannot wait to make more games. I have learnt many things along the way and though I'm still learning, I feel far more confident now in my abilities and actually really look forward tackling my next game.
GameSalad: That's great to hear! About how long did it take you to develop Panmorphia?
Lydia: I have been working on Panmorphia on and off since May of 2013. A large part of the development was simply learning how to do everything. The art went through a few iterations until it felt right, there was plenty of optimization to bring the file size down yet not compromise on the quality and generally making sure everything functioned correctly and the story felt right.
GameSalad: Any words of advice or tips to share with fellow GameSalad developers?
Lydia: Making a game by yourself can be really overwhelming, especially being new at it. What I found helpful was to cut everything into short attainable goals that I could complete in no more than a week or two. This enabled me to focus on one thing at a time and not panic at the sheer amount of work that a game of this type entails.
Lydia: The GS forum, cookbook and YouTube tutorials are invaluable assets to have – I truly couldn't have done the game without them, so thank you to everyone who has taken the time to help others and create those videos.
Finding fellow indie game developers on Twitter has also been really helpful as I could connect with people going through the same type of thing and we have been supporting each other through the ups and downs of game development.
GameSalad: Great tips, thank you! What do you plan on doing next?
Lydia: I'm currently hard at work testing the Universal App version of the game with plans to release on multiple platforms. I'm also implementing a Hint system and an Easy mode following feedback. I did a soft release with the iPad version for Panmorphia in the beginning of December and I'm hoping to release the next version somewhere around the end of January. My next hurdle is to conquer is the marketing aspect of releasing a game.
Once the dust settles, I am going to begin work on the sequel to Panmorphia and I have a few other ideas in the back of my mind that I am excited to explore further!
Many thanks again for choosing me for Game of the Month and I wish everyone creating their own games, good luck and perseverance!
GameSalad: Congratulations again and we wish you all the best Lydia!
If you love adventure games, then Panmorphia is the game for you! It's currently available for iPad on iTunes here. If you don't have an iPad, keep your eyes peeled for Universal release of Panmorphia. If you need more convincing, check out the trailer and Lydia's website website!