COVID-19 Coronavirus Assistance
As schools and districts make the tough decision to close schools, we like to offer our help in keeping students engaged. If your school or district is planning closure for health related reasons, please reach out to use by filling out the form below. We will make GameSalad's platform available to your students and teachers for free until the end of May 2020.
With GameSalad, students from grades 5-12 and beyond learn the fundamentals of computer science while building video games. GameSalad comes with 7 different game tutorials, each part of a full unit of Texas TEKS & CSTA aligned curriculum. Use it all or just pick what you need!
As students gain confidence and proficiency, they can move on to create original projects with their own graphics, music, and sounds!
Because GameSalad for Education's tutorials are integrated into our web based tools, students can learn and work wherever they are!
All they need is an internet connection and a web browser. Desktops, laptops, and even Chromebooks, they just need 2GB of RAM and access to Google Chrome or Firefox web browsers.
GameSalad Creator projects can be edited by multiple people at once. So students can work together on projects and teachers can peak into student projects to help them out!
The GameSalad teacher dashboard allows teachers to see student progress and view student projects: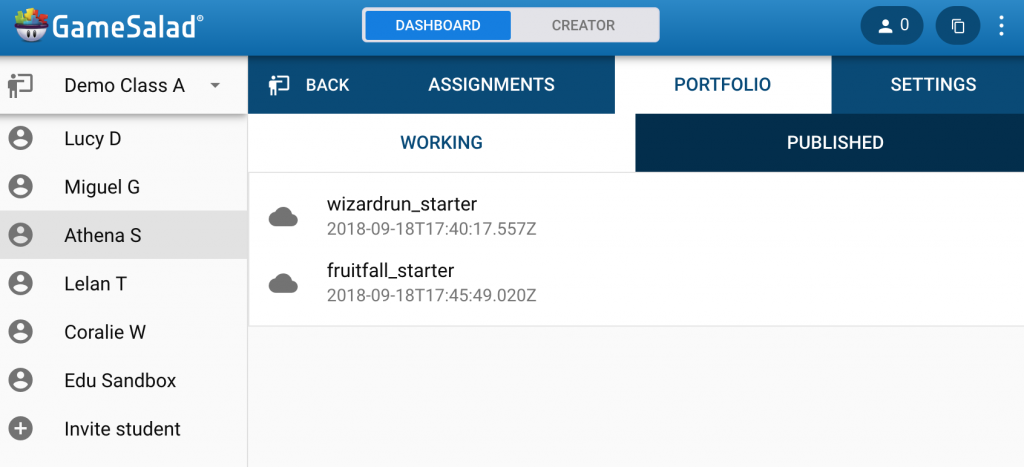 See how easy it is to create games in GameSalad:
Fill out the form to learn more!