Congratulations to Jonathan Mulcahy, developer of our March GameSalad Game of the Month, A Long Way Home!
A Long Way Home is a physics/puzzle game that will test your timing!
Check out our interview with Jon below:
GameSalad: Tell us a little about yourself and your experience as a game developer. Are you a solo creator, or part of a team or company?
Jon: I've been developing apps in my spare time since early 2009. A lot of train rides and late nights after the family has gone to bed. I am a solo creator, I do everything that I can myself. I have outsourced artwork creation many times, but I try to do as much as I can. It's a slow process, but in most cases I'm able to do exactly what I want to do.
GameSalad: That's great to hear. What got you interested in GameSalad?
Jon: In September / October of 2009 I found GameSalad, and dove right in. I had a working prototype of my first game done on my lunch hour, and the game was complete in 6 weeks. Never before had I been able to so quickly take an idea and have a working concept in a day.
GameSalad: What inspired you to make a game like A Long Way Home?
Jon: I started making A Long Way Home back in 2010, it was to be my second iPad game and heavily focused on orbits, rotation, and gravity. The iPad had just been released and I really wanted to take advantage of the larger screen size.
GameSalad: How long have you been using GameSalad?
Jon: I started using GameSalad in mid September of 2009, before we could publish to the iPhone or even save attributes between sessions! In that time I have released over 20 apps.
GameSalad: Well we're glad you've stayed with us, and that's quite the number of apps! How long have you been making games?
Jon: I originally started making apps with an SDK that allowed me to wrap HTML/Javascript into an app. It was fun, but I was pretty limited (mostly because of my skills with javascript) with what I wanted to do. Once I found GameSalad I was able to turn my ideas into an actual product which was awesome.
GameSalad: Have you been pleased with your final product and has A Long Way Home met or exceeded your expectations?
Jon: I have been very happy with how A Long Way Home has been received. We all wish our games will be the next breakout hit, but I really can't complain about this one. It was featured by Apple, reviewed by major mobile game websites and everyone who has played it gave me really positive feedback. This game, more than any of my others, has grown with me over the years. It was originally an iPad exclusive, then I ported it to android, made an iPhone version, ported it to Windows and Tizen, gave it a retina update, and most recently converted the game to a widescreen format and introduced gamepad support so I could publish it on the FireTV.
GameSalad: That's awesome! About how long did it take you to develop A Long Way Home?
Jon: From start to finish the original game took about 14 months. The current game looks very little like the first prototype. I've easily spent an additional 6-9 months over the past 3 years updating and adding new features to the game.
GameSalad: Any words of advice or tips to share with fellow GameSalad developers?
Jon: Start small and plan ahead. Before you dive headfirst into a game write up a design document. Plan out the story (if there is one), the major functionality of the game, what sections you will need (menu/game/settings/leader board/store) and what special logic you might need to do what you want. In A Long Way Home my very first scene was just a guy spinning on an asteroid, once I had that game mechanic working I moved onto adding the ability to jump. Whenever I'm designing a game I make sure I perfect a single game mechanic before I add the next one.
Most importantly, save often and make backups! I usually make a fresh copy every day, and every time I add a new feature.
GameSalad: Those are some great tips, thanks! When you're not developing games, what are some of your hobbies outside of GameSalad?
Jon: When I'm not developing games my wife and I spend our time with our 4 year old daughter and 8 month old son. They keep us pretty busy 🙂
GameSalad: I bet they do! What do you plan on doing next?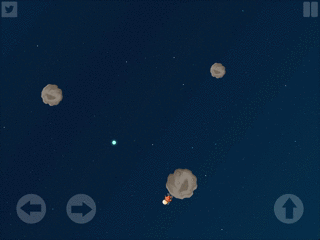 Jon: ​I have more ideas than time right now. I have a game that I've been working on since last spring which is currently 80% done, an adventure game that has been on hold for 2 years, a sequel to A Long Way Home, and a few other half started games I'd love to finish.​
GameSalad: I know we're all looking forward to your future releases, and wish you the best of luck!
If you love simple physics games that will test your timing, then A Long Way Home is the game for you! It's currently available on iTunes and for the Amazon FireTV. If you need more convincing, check out the trailer!